Given its specific transport infrastructure, Venice can not be explored by car. However, getting to Venice is a whole different matter, meaning the city is reachable by a variety of means of transport: by plane, by train, by bus and by car, as well as by boat.
By plane
Marco Polo Airport of Venice
The airport which services the tourist platform of Venice is called Marco Polo, in the memory of the great Venetian explorer. It is located on the mainland Italy, and it stands out as one of the largest and busiest airports in north Italy. More than 40 airline companies operate at Marco Polo Airport of Venice, which means that the tourist opening of Venice is fairly well ensured. Indeed, companies like Alitalia, U.S. Airways, British Airways, Emirates, Belle Air and Lufthansa establish connections with tens of international destinations, European and non-European alike (cities like Philadelphia, Paris, Amsterdam, Dubai, Casablanca, Nice, Prague, Vienna and Bucharest).
The airport transfer means are at hand, but tourists should keep in mind they cannot get to Venice as such (with is lagoon-like structure) by car, since if they do opt for this kind of transfer, they must find a car park outside the city proper where they must leave their vehicle. Thus, the water taxi services provided by ACTV, for instance, or the bus trips provided by ATVO, are the most convenient solutions in terms of airport transfers from Marco Polo to Venice.
Treviso Airport
Treviso Airport is yet another alternative at hand for tourists who want to fly to Venice. Located deeper inland than Marco Polo, Treviso Airport is mainly serviced by low-cost airline companies, such as Ryanair, Belle Air, German Wings, Wizz Air and Transavia. This is an ideal opportunity for budget travelers who come from Amsterdam, Bucharest, Casablanca, Barcelona or Dublin.
The airport transfers from Treviso Airport to Venice are insured by ATVO, and, despite the distance (some 30 kilometers to Venice), they are fairly reliable and time and cost-efficient.
By bus
Despite the fact motorized road transport in Venice is forbidden, getting to La Serenissima by bus is actually possible. It's true reaching Venice by bus is not the most popular manner of traveling to Venice, but this remains, however, a solution at hand. The main bus terminal for national and international bus trips is located in Piazzale Roma (located at the Venetian extremity of Ponte della Liberta, which is, in fact, the extension of Via della Liberta, a road which springs directly from A4, Autostrada Padova-Venezia).
From Piazzale Roma, visitors must resort to other means of transport (such as the water taxis) in order to explore Venice in depth.
ATVO
ATVO is the main bus company which provides trips throughout the province of Venice. The company provides connections with all the major cities and resorts in this part of Italy, and it counts as one of the top solutions in terms of airport transfer services. Thus, by resorting to this company's services, tourists can get n virtually no time to Lignano, Jesolo, Caorle, Bibione, Treviso and, of course, Venice.
In order to learn all there is to know about the bus connections, bus schedule, ticket sale points, ticket prices, duration of a trip and the like, please follow the indications below:
By train
All the railway connections in Venice end at the Santa Lucia Train Station (Ferrovia Venezia Santa Lucia). This station is located within the lagoon, and it is the terminal of most trains that come from the rest of Italy and sundry other European cities. The building of this train terminal completed during World War Two, and the fact it receives some 30 million passengers each year and about 450 trains a day proves not only the tourist opening of Venice, but also the contribution of the station to the tourist platform of the city.
The other major train station one can take into account in case they want to get to Venice by train is the station located in Mestre (Ferrovia Venezia Mestre). This one is located on the mainland Italy. After arriving at Mestre, tourists must get one of the buses operated by ATVO or by ACTV. Tens of millions of passengers transit this train station each year. It receives about 500 trains a day, and that speaks about the tourist importance of the station.
In order to learn more about the services and facilities available at each of train stations, their history and the like, please visit Grandi Stazioni. In order to find out the most convenient train connections to Venice, ticket prices, bus connections duration of a trip and ticket prices, please visit Trenitalia.
By car
Getting to Venice by car, as rewarding as it may sound in terms of the autonomy one can envisage while spending their vacation in Venice, is not, however, the most convenient solution. Motorized road traffic in Venice is not allowed, which is why coming to Venice by car defeats the purpose of a vacation which makes little room for public means of transport.
However, visitors who do choose to drive to Venice must learn before actually setting foot on the lagoon they must leave their vehicle in one of the car parks clustered in Piazzale Roma. Tourists must also mind that the parking space is not free. On the contrary, the services are quite expensive, amounting to several tens of euros per day.
Before reaching Piazzale Roma, tourists must first cross Ponte della Liberta (the Libery Bridge) which is the extension of Via della Liberta which, at its turn, springs from Autostrada Padova-Venezia. In order to learn more about the network of motorways and national roads of Italy and, hence, choose the most convenient combination depending on your point of departure, please visit Auostrade per l'Italia.
ASM Venezia
ASM Venezia manages three car parks: the City Parking Garage, the San Andrea Car Park and the San Giuliano Car Park. Each of these garages are fully equipped to provide reliable parking services, but the fares are, as said, considerable enough to make tourists think twice before turning to this company's facilities. The San Giuliano Garage is not located in the lagoon proper, but nearby the mainland end of Ponte della Liberta.
ASM Venezia also manages the car parks in Mestre (the Piazzale Candiani Car Park, the Ca'Marcello Car Park and the Peripheral Car Parks).
Garage San Marco
Garage San Marco is, it too, located in Piazzale Roma. It stands out as a further alternative for people in search of a parking space in Venice.
By sea
Port of Venice
The Port of Venice is one of the largest marinas in the Mediterranean Sea, both in terms of shipping and of passenger transport. In regard to the tourist platform of Venice, the port is serviced by ferryboat companies, cruise companies and high-speed vessel companies which establish sea connections between Venice and destination like Croatian and Slovenian cities (Albona, Pirano, Pola, Umago, Rovigno, Lussino), as well as to Egypt, Syria, Greece.
In order to learn more about the chiefdom of the Port of Venice for the city's tourist and economic life, use the indications below:
Venice Passenger Terminal
In order to learn more about the services dedicated to passenger exclusively (including car parks), follow the indication below: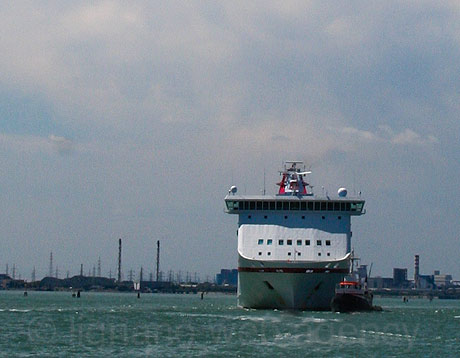 Cruise Line Ship in Venice
Go to top