Venice is the most important city of Veneto Region in the North-Eastern Italy, is the province capital and part of UNESCO World Heritage Site.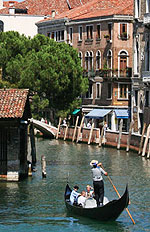 Nicknamed Serenissima or Dominante, it has been for more then 1000 years the capital of Venetian Republic. Venices nicknames include "Queen of the Adriatic", "City of Water", "City of Bridges", and "The City of Light". Venice Lagoon formed around year 800 B.C.
The city of gondolas, channels and Vivaldi, a real open outdoor museum, unique in its almost everything, Venice is considered the most beautiful city in the World, fascinating and full of Romanticism, it s a pilgrimage site and its Carnival attracts millions of foreign tourists every year. Tourists are also coming for the cinema events, art galleries and museums, theater plays and numerous shows. For accommodation and staying in Venice you can chose from various options, since the city has more more then 450 historical hotels, apartment buildings where you can get a room, in different districts and areas or the city: Venice Historical Center, on the islands around the lagoon, on the beach, etc.
Venice is organized into 6 zones (districts): Cannaregio, Castello, Santa Croce, San Marco and San Polo. The city is built on 118 islands linked each other trough 354 bridges and having in between 177 channels.
Go to top