Shopping in Venice has given rise, in time, to all sorts of reactions. Some tend to believe Venice is more of a tourist trap from this point of view, whereas others praise it as a genuine shopper's paradise. Indeed, there's a lot to shop for in Venice, from fashion and jewelries to unique souvenirs (glassware, masks and costumes, lace) and traditional foodstuffs.
The whole point in shopping in Venice is to be able to tell the trinkets from the authentic products. The market is literally suffocated by shams, and even cheap products are sold for inflated prices, precisely due to the fact sellers capitalize tourists' eagerness to leave from Venice and take something to remember from their vacation back home without pondering whether the product is worth purchasing or not. As tourist-oriented as it might be, Venice is, however, a market where original items, such as the traditionally produced Murano glass and Burano lace, first-hand fashion clothes and accessories, superb design and the like can be bought. The prices match, of course, the quality and the prestige of the brands, but are worth paying.
The so-called Mercerie is a real backbone of Venice in terms of shopping opportunities. For extended shopping experiences, however, tourists can also turn to Calle Larga XII Marzo or head for Frezzeria. Lista di Spagna and Strada Nova should not be disregarded either, each of these thoroughfares being lined and packed with stores and boutiques which, if out of the reach of a mere budget traveler, stand out as a rewarding window shopping sight.
Carnival masks and costumes in Venice
The Venice Carnival is the one annual event which draws the attention of the entire world to the lagoon. The carnival masks (or Venetian masks, for that matter) have become, next to the ever present sliding gondolas, a symbol of the city. What better souvenir to bring back from Venice than a superb handmade carnival mask, dripping with decorations or, why not, discretely designed with simple lines and patterns?
Ca'del Sol
Located in the very historical heart of Venice, Ca'del Sol is ideal for people in search of a unique and symbolic souvenir or, why not, gift from Venice. The gorgeous range of masks on offer is complemented by Venetian costumes.
Name:

Ca'del Sol

Address:

4964, Castello, 30122, Venice, Italy

Telephone:

0039 041 5285549

Fax:

0039 041 5285549

Email:

Website:
Tragicomica
Tragicomica sells some of the most expensive Carnival masks and costumes in Italy. Yet, the price only reflects the quality of the products. The owners are also available for organizing private workshops for clients willing to learn how to make themselves the precious Venetian masks. Theater and carnival costumes are also on sale.
Name:

Tragicomica

Address:

2800, Calle dei Nomboli, San Polo, Venice, Italy

Telephone:

0039 041 721102

Fax:

0039 041 5240702

Email:

Website: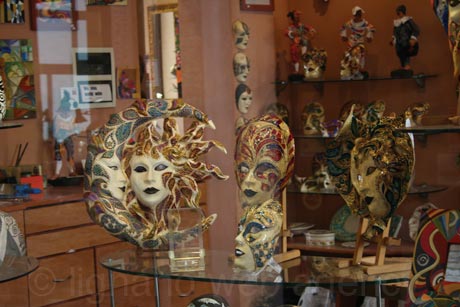 Carnival Mask Shop in Venice
Fine glassware in Venice
Venini
Venini is one of the finest glassware producers in Italy. It is headquartered in Murano, but it does have a sale point in Venice, in San Marco. Another Italian branch office is located in Milan. In order to shop for their high quality artistic products (chandeliers, lamps and other lighting devices, vases), clients don't necessarily need to come to Murano or Venice, given the company has sale points all over the world, from Asia to America, Africa included (which is, in fact, yet another proof of their excellence and tradition in glasswork).
Name:

Venini

Address:

314, Piazzetta Leonchi, San Marco, Venice, Italy

Telephone:

0039 041 5224045

Fax:

0039 041 5224045

Email:

Website:
Mauro Vianello
Mauro Vianello is a glass artist the work of who is largely appreciated in Venice and not only. The whimsical glass creatures, flowers, decorations and jewels he produces fascinate tourists in search of handmade souvenirs as an alternative to the less personalized mass production gifts.
Name:

Mauro Vianello

Address:

2251, Calle dei Morti, Santa Croce, 30135, Venice, Italy

Telephone:

0039 041 5201802

Fax:

0039 041 5201802

Email:

Website: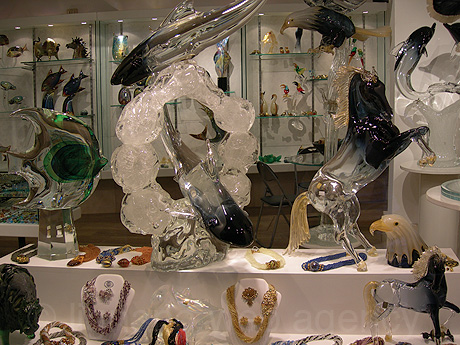 Glasswork Shop in Venice
Burano lace in Venice
Scuola dei Merletti
The best place to shop for lace in Venice is the very island of Burano, where the tradition was born from the first place and cultivated for centuries. The shop is located in the same building as the Lace Museum, that is, in Scuola dei Merletti (Lace School), a historical edifice erected in the second half of the 19th century.
Name:

Scuola dei Merletti (Museo del Merletto)

Address:

187, Piazza Galuppi, 30012, Burano, Italy

Telephone:

0039 041 730034
Markets in Venice
Rialto Market
The Rialto Market is, by some tourists' opinion, one of the best sights to feel the genuine throbbing pulse of Venice for what it really is. The market is not necessarily a tourist-oriented venue, but the presence of tourists who flock to its stalls dripping with fresh produces surely influences the profile of this market. Thus, the wandering tourist can lose themselves amongst the clustered stalls and delight in admiring a world of colors, flavors and scents, and explore imaginatively the gastronomic perspectives opened by the sight: freshly caught fish, seafood, spices, fruit and vegetables. Adding the fact the so-called Pescheria is located just nearby the Rialto Market, one can easily imagine how their shopping spree will expand.
Souvenir seekers have also their share of opportunities if decided to visit the Rialto Market. The market is, however, large and generous enough to be home to sundry clothing, jewelry and even Murano glass stalls and shops.
Go to top