Scuola Grande di San Marco is located in Castello, in the largest Venetian campo, namely, Campo Santi Giovanni e Paolo. The building is flanked on one side by the Colleoni Monument. The present Scuola Grande di San Marco was built in the late 15th century, following a design by Pietro Lombardo whose work remained unfinished, but eventually completed by Mauro Codussi. The facade exudes an overall Renaissance vibe, being decorated with marble statues – either polychrome or white – and pilasters, and featuring visible Byzantine influences (plenty of niches, as well as an abundance of arches).
The present Scuola Grande di San Marco is not, in fact, the first seat of the San Marco Confraternity of Venice. The original seat used to fill the same site (it was built in 1260), but it was raised to the ground in 1485, which is why the strong and reputed San Marco Confraternity commissioned the construction of a new seat worthy of its prestige and power (three of its members were Alvise Cadamosto – famed explorer and slave trader born in the just as reputed, but less appealing Ca'da Mosto – Giosafat Barbaro – statesman, explorer, writer and diplomat of Venice – and Ambrogio Contarini - him too statesmen of Venice, born of the famed Contarini Family the name of whom is borne by the unique Palazzo Contarini del Bovolo).
The building underwent significant changes in time, in particular inside. Thus, just to cite a mere example, the interior stairs designed by Mauro Codussi were pulled down in 1819, when the building was turned into an Austrian military hospital. At present, the edifice is a civil hospital and, despite the fact the plethora of pictorial and sculptural works which used to decorate it is now gone, it remains an architectural landmark to be admired in its entire splendor.
Name:

Scuola Grande di San Marco

Address:

Campo Santi Giovanni e Paolo, Castello, Venice, Italy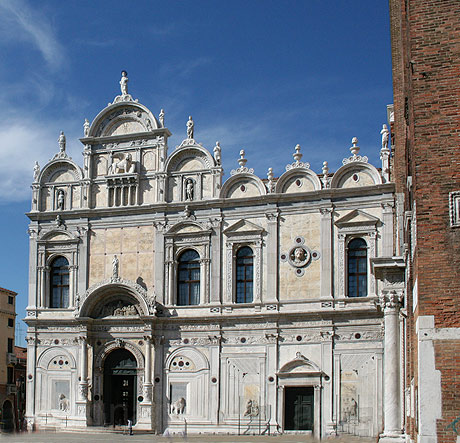 Scuola Grande di San Marco