The celebrated Clock Tower of Venice is located, unsurprisingly, in Piazza San Marco. It is one of the most visible landmarks of the square, not necessarily by force of its monumentality, as much as due to its height and to the fact the two bronzes on top of the tower (two statues known as "the Moors", given their original color has darkened in time as a result of the decay of their polish) pivot when the clock strikes the hour and that the bells ring.
The present Torre dell'Orologio dates back to the late 15th century. Back then, a former clock tower used to fill the site, but that one was brought down because of its precarious condition. The construction works to the present structure completed in 1499. The two Moors had already been cast in bronze since 1494 (realized by Ambrosio delle Anchore, though the authorship of the concept remains uncertain). The original mechanism of the clock dates back, it too, to those times (it was set up under the supervision of two Ranieri engineers, Gian Paolo and Gian Carlo, father and son), though sundry restoration works which have altered it considerably have been carried out in the course of history.
Speaking of restoration works, the general repairs carried out in time kept close to the architectural guidelines of the monument. The base of the clock actually consists of an archway under which a passage known as La Merceria stretches on its way to Rialto, the economic district of Venice. Other highlights of the tower refer to the statue of a lion with wings which holds an open book in a symbolic gesture representing the centuries-old cultural opening of Venice. A statue of the Virgin with Baby Jesus is placed beneath the lion.
Torre dell'Orologio is not only one of the most iconic landmarks of Venice, but it has been for centuries part of the life of the locals who, very fond of their most prized rendezvous place, have held it in great respect.
From a tourist point of view, the guided visits to Torre dell'Orologio are made only in Italian, in French and in English. The tours in Italian are organized each day, between 12pm and 4pm, whereas for the other two languages, the schedule is much more restrictive. The integral ticket which enables tourists to visit the museums in Piazza San Marco is also available for the Clock Tower. In order to learn more about the opening hours, guided tours, and ticket prices, follow the indications below:
Name:

Clock Tower (Torre dell'Orologio)

Address:

Piazza San Marco, 30124, Venice, Italy

Telephone:

0039 041 42730892

Email:

Website: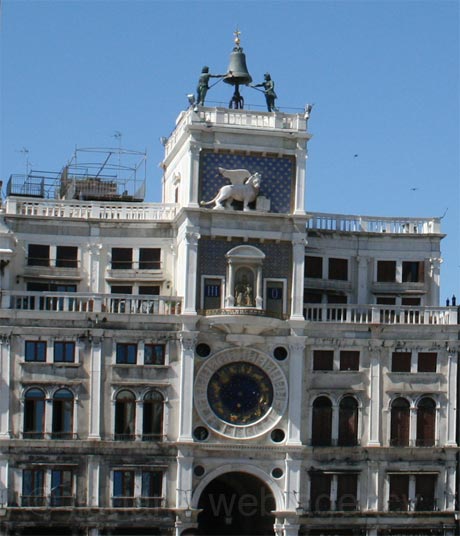 Clock Tower in Piazza San Marco